Small towns…so much golf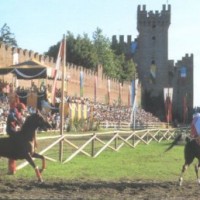 Montagnana 25 km: The city wall was built between 1360 and 1362 at the behest of Francesco da Carrara the Elder. The 24 towers (17-19 meters high)that punctuate the wall are open inwards. Today the castle houses the civic museum, which exhibits prehistoric remains, Roman tombal items and medieval pottery. The cathedral dominates the central Piazza Vittorio Emanuele II. Beyond the arched doorway supposedly designed by Jacopo Sansovino, the interior offers a number of Renaissance works of art. The 14th-century church of St. Francis on the via Scaligers contains works by the Veronese school and a Madonna with Child by Palma the Younger.
The Euganean thermal resort 8 km: The Euganean thermals are the largest spa in Europe. Surrounded by the Euganean Hills they are the perfect place to get back in shape. Their reputation in this respect dates back to 3000 ago. Guests are welcomed with cordiality and followed with professionalism.
The Sottomarina Lido 45 km: Nestled between the Adriatic lagoon and the Venetian countryside, this beach once looked like a thin strip of land. Now the place enjoys a beachwhich extends, beyond the mouth of the Brenta to that of the Adige, where lies the Isola verde, renowned for its sandy soil particularly suitable for horticulture and which is today a touristic attraction. The beach, which is 10 kilometers long and reaches a width of 300 meters in some places, is appreciated all over the coast for the quality of its sand, and a moderate and constant ventilation.
Garden Valsanzibio 2 km: Elected"the most beautiful park in Italy"in 2003 in the international parks and gardens contest sponsored by Briggs & Stratton,the Barbarigo-Pizzoni Ardemani aValsanzibio garden is one of the most important and refined Italian style garden. Covering an area of ​​150,000 square meters, geometrically organized through 60,000 square meters of espaliered boxwood, it contains 70 white marble statues, 4 ponds and 16 fountains. The famous labyrinth develops a path of one kilometer and half within 10,000 square meters of boxwood. The garden also hosts 800 trees of 76 different species including incense cedars and cedar of Lebanon, as well as countless rare varieties of shrubs.
For golf lovers:  a few kilometers from Domus Rosarum there are several golf courses: two at short distance in the Galzignano thermal resort ( golf club Padova and golf club of Galzigano thermals);  little farther are the Frassinelle  golf club and the  Montecchia. golf club.