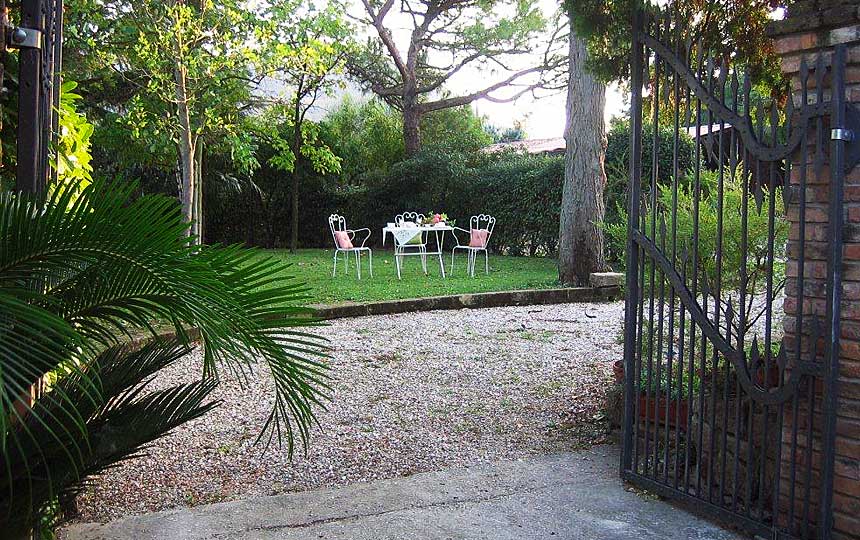 il lusso a piedi scalzi...
Perfection in the Italian countryside
mystery1
Brooklyn, NY
Left on 08/19/2011 for a stay in August 2011
In a lovely, hilly landscape, south of Padova, in the country, you drive up to stone walls and a big gate, which opens to let you into a garden with fruit trees, cats, peacocks and a large stone house. Marco and Barbara greet you warmly, offer drinks and cake, and then take you to a separate wing, with its own gate and garden, to your apartment. Unexpectedly generous space, well-equipped, 2 floors, 3 bedrooms, 2 baths, a balcony, wonderful views. There was a welcoming bowl of fruit and some wine waiting for us. It may sound too good to be true, but it is indeed true. We just spent a week there, at Domus Rosarum, between arqua Petrarca and Monselice, in the Euganean Hills. It is a relatively untouristed area, with several charming small towns to explore and excellent train service to Venice (1 hour) and Padova. (The train station is a short drive away, in Monselice, where you also would buy groceries, etc.) It was all a bit of a dream of a getaway to the Italian countryside, but the part that surpassed anything we might have dreamed was the outstanding warmth and hospitality of Marco and Barbara. We felt like guests, not tenants, and would be delighted to return their hospitality any time. Recommended 100%! (Note that this is in the country, and a car is needed to get around locally. Good train service to other towns)
A good address
stéphane et véronique
rennes
Left on 08/14/2011 for a stay in August 2011
We spent a good week in arqua Petrarqua. Marco and Barbara are very nice people and always ready to make your stay pleasant. They give us advice about what to visit around.
The house and the garden were very confortables. There are a lot of place to visit not so far from arqua Petrarqua. Realy, a good adress.
Cyrild24
Bergerac
Excellent location
Left on 08/08/2011 for a stay in July 2011
We spent a wonderful week in Marco and Barbara's property : very welcoming and helpful people, quiet place, nice garden and very well situated place to visit North Italy.
Unforgettable holidays !
Thanks for everything Marco and Barbara.
OpinionatedFoodie
Midlothian, VA
An absolute gem
Left on 11/22/2010 for a stay in October 2010
We stayed at Domus Rosarum for a week in October and recommend it highly. Part of a gated country estate of several houses, it is newly renovated and private townhouse-style apartment nestled in a former horse barn built in the 13th century. The ground level has an outdoor dining room and self-contained apartment with queen size bedroom, kitchenette, and ensuite bathroom. The upper level has two additional queen bedrooms, a master bath, living room, dining room, sitting area, eat-in kitchen, and terrace. The entire unit is spacious, airy, fresh, tastefully decorated, and comfortably furnished.
Our hosts, Barbara and Marco, were charming and most helpful. Upon arrival, we were welcomed on the terrace of their adjacent home with coffee and homemade pastry. They provided excellent recommendations on restaurants, area attractions, and transportation logistics.
The location is bucolic and peaceful yet convenient to making day trips into nearby cities and towns. A car is essential, but those who prefer touring by train need only drive to the train station at Monselice, a mere mile away. We spent each day in a different place (Verona, Ferrara, Monselice, Vicenza, Ravenna) and returned in the evening to enjoy dinner near home, most often in one of the many delightful restaurants in arqua Petrarca.
Prospective guests may want to know that the hosts have cats.
We have rented lovely vacation apartments in a half-dozen places in Italy, and this is ranks as one of our very favorites. It is a gem.
Nikolaus
Montreal, Canada
The ideal place
 Left on 11/20/2010 for a stay in June 2010
I spent two weeks there in June 2010 with my 74yr old mother. I regularly rent houses for summer vacation in Europe, and must say that my stay in Domus Rosarum was one of the best vacations I ever had.
One of the reasons for this is the house and its excellent hosts. Domus Rosarum is spacious and comfortable. The air-condition in the sleeping area is a definitive plus. For meals, you have the choice between the inside and two outside tables, one of which is covered which protects you from the midday sun. A nice restaurant is close with inside or outside dining if don't feel like preparing evening meals. Barbara and Marco are excellent hosts, always ready to help you out with anything you might need, and highly sympathetic.
The location of Domus Rosarum is ideal to explore the cities of Northern Italy, providing a cross-section across its 2000yr history. You can make daytrips to Ravenna, Mantua, Verona, Vicenza, Bologna, Ferrara and Venice – Padua is less than ? hour by car. There are regular direct trains from Monselice (which is worth a visit itself) to Venice (approx 1hr – if you really have to go there – we felt it falls short of the other places), which avoids difficult and pricy parking in Venice. Do not neglect the close neighbourhood of the Domus, which is located in the Colli Euganei that are full of picturesque views and villages and very suitable for short and long hiking trips. The whole area is sprinkled with renaissance and baroque Villas and garden parks, some of which can be visited. Moreover, you will cherish a tranquil "day off? around the house and its wonderful gardens. Overall, you will have to make difficult choices about what to do, since this spot is full of the most various possibilities.
Edith & Christian
Germany
Beautiful holiday
 Left on 11/09/2010 for a stay in August 2010
It was probably the most beautiful holiday for us.
Fabulous region, interesting towns (Padva, Ferrara, Vizenca, Verona, Venice, Chiogga, Arqua Petrarca …), Adriatic See not far away and of course a very comfortable and nice house with marvelous garden.
And Barbara and Marco were for us like our family.
Thank you very much. I hope, we will do it once again.
BM
Douai, France
A wonderful stay
 Left on 11/08/2010 for a stay in July 2010
Marco and Barbara are wonderful hosts who contributed to making our stay a success. Domus rosarum is a gorgeous, restful place.In the vicinity of Arquà Petrarca, beautiful interesting cities fill visitors with joy . There is plenty to do (hikes as well ass cultural visits).
We met a lot of very friendly people and apart from Venice, there aren't that many tourists around.
PFenn_12
28970
A true treasure, spacious, comfortable, with the most attentive
 Left on 02/13/2012 for a stay in October 2011
Marco and Barbara, he a doctor and she a lawyer, greeted us as we arrived and invited us into their home next door. They welcomed us with wine, tea, juice and a delicious homemade cake. They gave us maps, brochures and told us about the area and then took us to a store nearby to purchase staples for our kitchen.There were 4 of us, two couples, and the two story house with two patios was lovely and had plenty of room. Space to park our car on the grounds and short distances to many wonderful restaurants and sites. A very relaxing area, walking distance to a lovely local restaurant and a perfect location to explore. All the modern conveniences — television, Dvds, wireless Internet, well equipped kitchen, very nice bathrooms and bedrooms.We stayed a week, which was perfect, and anything we needed, Barbara and Marco were very willing to oblige. We even did laundry there! They are the perfect hosts, helpful but not hovering. We greatly enjoyed this visit and would not hesitate to recommend it highly to a family or couples who want a lovely get-a-way. It is a place that we very easily could go back to and enjoy in the future.
Georgia travelers
Athens, GA
Delightful hosts and good location
 Left on 10/12/2011 for a stay in September 2011
Our hosts were more than welcoming and attentive. They were generous with information and time. The apartment was enormous.
We were a party of three, and the accommodations were quite spacious and comfortable. We enjoyed the rustic setting very much. Large sitting area and beautiful private outdoor area.
This area of Veneto offered many local historic places to visit. It was also very near World-Class sights such as Padua and Venice. We rented a car for rural travel and used the train for excursions to larger cities. Public transportation was easy and direct.
All our party agrees that Domus Rosarum is definitely worthy of high recommendation. This is based on our love of privacy, rural and less touristy locations, and genuine warmth of our hosts.
Don and Jan Lalonde
Saint John Canada
awesome holiday experience!
 Left on 10/09/2012 for a stay in October 2012
Marco and Barbara were great!
We were 45 minutes by train to Venice where we spent a great day. Domus Rosarum is 5 minutes from the train station in Monselice where we left the car (park 10 minutes walk from the train station). Easy to do Venice in a day, and you could easily go back tomorrow.
We are 2.5 hours from Cortina in the heart of the Italian alps (Dolomites) which was an awesome trip!
We spent a day in Padua (Padova) which is 45 minutes away by car. There is a great shopping center with incredible food and wine in it on the way to Padova, about 30 minutes from here.
There are great hiking trails which are quiet with breath taking views just 50 meters from Domus Rosarum.
We spent a day at 2-3 small towns around eating in little restaurants (Arqua Petrarqua, Este,)
We spent one day in Bergamo, about 2.5 hour drive. That also was great.
This is an ideal place to explore northeast Italy from.
The house here is huge and beautiful. We were alone, but there are 3 bedrooms and 2 bathrooms so 1-3 couples could easily stay here and not be in each other's hair. You do need a car. They had 2 bicycles for us to use.
……………………………………………………………………………………………………………………………………………………………………………………………………………
Gaelle M.
Agosto2012
Propriété ancienne, très agréable, très propre, beaux volumes, meublée avec goût. Propriétaires très délicats et attentionnés.
Visites d'Arqua Petrarca, Monselice (villages pittoresques), Padoue, les collines euganéennes (chemins de randonnées à travers ces anciens volcans), "villas" (belles demeures) à visiter aux alentours, Venise à 40 mn par train (à peine plus en voiture), Chioggia, station balnéaire la plus proche (température de la mer très agréable),Ferrara… Les propriétaires ont de nombreux animaux auxquels nos enfants ont beaucoup aimé rendre visite.
Arkadien in Arquà Petrarca
recensione inoltrata: 31 agosto 2011 Data soggiorno: agosto 2011
"Gesegnet sei der Tag, der Monat und das Jahr, die Jahreszeit, die Zeit, die Stunde und der Punkt, das schöne Land, der Ort, wohin ich nun gekommen war" – so dichtete Francesco Petrarca angesichts seines Wohnsitzes in Arquà.
Und so haben auch wir in "einem der schönsten Dörfer Italiens" das 'domus rosarum und domus sambac' von Barbara und Marco erlebt, eine Bezeichnung, die auf der ideenreichen homepage auftaucht, neugierig macht und durch die duftende Wirklichkeit u. a. der Rosen, des Jasmins und der Oleander übertroffen wird.
Selbstredend stimmen die Beschreibungen über das gehobene komfortable Landhaus in historischem Erscheinungsbild mit hohem Wohlfühlfaktor. Aber es gibt über dieses Selbstverständliche noch etwas hinaus, ausgehend von den angenehm bemühten Eigentürmern, die ein altes Anwesen angemessen modernisiert haben: Ausstrahlung oder Seele, die die Alten "genius loci" nannten, was man modern übertragen kann, Petrarca zitiert: "Es ist etwas in der Örtlichkeit, es ist sogar sehr viel in ihr."
Das gut Erhaltene und Malerische mag jeder Besucher selbst begeistert entdecken; die Umgebung trägt mit einer Fülle von mobil leicht zu erreichenden Sehenswürdigkeiten bei; auch sportlich Ambitionierte und Wanderer kommen auf ihre Kosten.
Humorige Eigentümer inklusive bunter 'grenzübergreifender' Pfauen und das sehens-, bewohnens- und erlebenswerte Gut in der typischen malerisch schönen Umgebung des Euganeischen Hügellandes sind unbedingt eine Empfehlung wert.
Domus Rosarum in Arqua Petrarca
Bob W.
recensione inoltrata: 22 giugno 2012 Data soggiorno: maggio 2012
We were delighted with our stay, and will recommend this rental to our friends.
On arrival at this beautiful property, we received a very warm welcome from Marco, Barbara and their family. They greeted us with fresh-picked cherries from their orchard, flowers from the garden and fruit from the local market.
The main rooms are charming, very spacious and comfortable. They are well-maintained and very clean.
The owners were helpful throughout our visit.
We enjoyed many of our meals in the garden and on the terrace. For other meals we enjoyed walking a short distance to the local restaurant.
The property is a short drive from attractions in Arqua Petrarca, Monselice (our favourite), and other picturesque villages & towns.